MERMAID M9 COOL ONLY MARINE A/C UNIT - 9,000 BTU'S - 110V
$970.00
Brand: Air Conditioning
Product Code:

AXB01116GPL

Availability:

In Stock

Ex Tax:

$970.00
Mermaid M9 Cool Only Marine A/C Unit - 9,000 BTU's - 110V

With a cooling capacity of 800 cubic feet, the Mermaid 9,000 BTU unit is designed to cool up to a 30′ cruiser or a 32′ sailboat.

The smallest 9,000 BTU on the market; it is almost the same size as the Mermaid M6 unit. In order to keep the smallest footprint on the market, Mermaid utilizes the same stainless steel base as the Mermaid M6 (6500 BTU) unit. This unit will run off of a Honda 2000 generator. This unit is available in right, left, or top air discharge configurations. Mermaid uses a 6″ and 4″ ducting and recommend a minimum of three 4″ round supply grills with this installation.

All M9 models include a digital thermostat, an insulation mounting pad, and an air output collar. Pump not included.

Digital Control/Thermostat Options (Included w/Unit) - Select Programmable or Non-Programmable
Programmable Thermostat


Mermaid's standard Digital Programmable Thermostat. Designed to be used with any Mermaid unit.

Programmable features allow for weekday and weekend setting for those boater's who care to use the unit for dehumidification or simply climate control while not on board. The thermostat is also accompanied with 20 feet of four-wire thermostat cable and installation instructions.

Dimensions: 4 1/2″ length x 1 1/4″ width x 3 1/4″ height


Non-Programmable Thermostat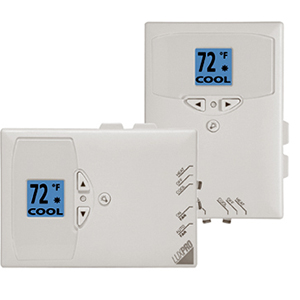 As an alternative to the standard Digital Programmable Thermostat, Mermaid offers a simple Non-Programmable Thermostat that can be mounted vertically or horizontally. It is ideal for applications where programming features will not be necessary.

Simply set the fan to AUTO (comes on with the unit) or ON (continuous duty), and set your desired temperature – and that's it! The thermostat will now maintain that set temperature until you turn it off or change the temperature. Again, this item is ideal for folks looking for a simple controller and a slimmer wall mount design. This can be a FREE alternative to your Programmable Thermosat upon purchase of any Mermaid Air System.

Dimensions: 4 5/8″ length x 7/8″ width x 3 1/4″ height
Technical Specifications
| | |
| --- | --- |
| Model | M9 |
| Cooling Capacity | 9,000 BTU's |
| Voltage | 110V |
| Running Amperage | 7.0 A |
| Unit Length | 16 inches |
| Unit Width | 11.5 inches |
| Unit Height | 11.5 inches |